Government grant aid for NASA workers set to lose jobs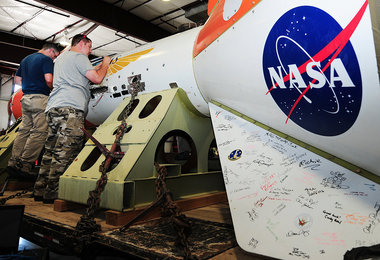 A $15 million grant is has been awarded to help 3,200 government workers on NASA's space shuttle program in Florida, who are set to lose their jobs when the program finishes at the end of this year.
This grant was issued by the federal Labour Department on Tuesday and according to officials, will be used to fund career guidance, job training and continuing education programs to get them ready for successful careers outside of NASA. They are among the 9,000 people facing layoffs as the shuttle program winds down.
The $15 million revised grant is being awarded to the Brevard Workforce Development Board Inc., who will be in charge of administrating the money as they see it fit. The money will go to help workers at all levels, from entry-level to skilled professionals in top end positions.
This is the least the government can do to compensate aerospace workers who have helped NASA in its missions throughout the past 3 decades, according to US Secretary of Labor Hilda Solis who announced this additional government funding.
The grant supplements a $40 million jobs training program introduced by President Obama in April. The original job training program was put into place after Obama called to a halt the already planned mission to the moon by NASA fleet in 2011. Obama stated that funds set to be used for this mission could find better use in the creation of a rocket that can carry a 5 man team to the moon, and enhanced career training for the workers. The mission has thus been put on hold for about 5 year's time.
The new rocket design is said to be a faster and slimmed-down version of the current aircraft and will be created and tested over the next few years with concrete plans outlined to send astronauts to nearby asteroids, to the Earth's moon and the moons of Mars, and to Mars itself.
And while Americans will inevitably lose jobs in the interim the combination of money used to upgrade NASA facilities in the next few years and the new jobs that will come from launches of the new commercial rockets will produce at least 2,000 more jobs by 2012 than the original plan would have.